Daicel 81445 CHIRALPAK ® IB SFC Semi Preparative Analytical HPLC Chiral Column - Polysaccharide Derivatives Solvent-Rich Chiral Column, 20mm, 250mm, 5µm
Free Mainland UK Shipping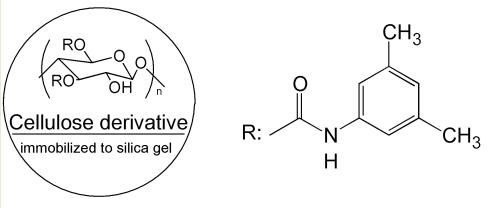 Silica gel is covalently bonded to cellulose-tris (3,5-dimethylphenylcarbamate)
CHIRALPAK ® IB-3 / SFC, CHIRALPAK ® IB / SFC Solvent-based chiral column, silica gel covalently bonded to cellulose-tris (3,5-dimethylphenylcarbamate).
Solvents use unrestricted, wide dissolution conditions, any solvent can be used as a mobile solvent, dissolved samples, chiral column regeneration. And has the necessary anti-high pressure performance when used on SFCs.
Solvents that can be used, for example:
The main mobile phase: CO 2
Solvent: Ethyl acetate, CH3Cl, THF, MTBE, n-Hexane, IPA, EtOH, H2O, IPA, MeOH (not more than 30%)
Parameters
Particle size of filler
CHIRALPAK ® IB-3 / SFC: 3 μm
CHIRALPAK ® IB / SFC: 5 μm

pressure
8-20Mpa

temperature
~ 25 ℃
Store the solvent
2-Propanol 100%

※ When the chiral column is used on SFC and used on HPLC, the system varies widely. Please follow the instructions on this manual to avoid irreversible damage.
SKU

81445

Commodity Codes

90279050

Manufacturer

Daicel Corporation

Country of Origin

Japan

Chromatography HPLC or GC

Particle size (µm)

5

Internal Diameter (mm)

20

Length (mm)

250

Temperature range (°C)

0 ~ 40 ℃

pH Range

2.0 to 9.0

Packing Phase

CHIRALPAK ® IB SFC