Daicel 25622 CHIRALPAK ® WH Ligand Exchange Analytical Guard HPLC Chiral Column, 4.6mm, 50mm, 10µm
Free Mainland UK Shipping
CHIRALPAK ® WH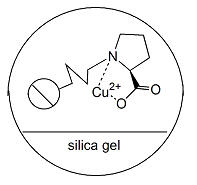 The surface of silica gel is covalently bonded to L-proline derivatives
USP L32 Specifies the filler
CHIRALPAK ® WH is a ligand exchange chiral column, and the surface of silica gel is covalently bonded to L-proline derivatives.
For the mobile phase of 0.1 ~ 2mM CuSO4 aqueous solution.


Ligand Exchange Chiral Stationary Phases
CHIRALPAK® WH / CHIRALPAK® MA(+) columns
The chiral stationary phases in these columns are made of amino acids and its derivatives coated or bonded to silica supports ( with a particle size of 10μm for WH and 3μm for MA (+) ) . Since these columns are ligand-exchange type columns, the standard mobile phase to use is an aqueous solution of CuSO4 (0.1 to 2mM) . These columns can tolerate organic moditifiers such as Methanol and Acetonitrile according to the specifications in the instruction manual.
Parameters
| | |
| --- | --- |
| Particle size of filler | 10 μm |
| pressure | In order to extend the service life of the chiral column, it is recommended to keep the pressure below 10 MPa |
| temperature | 0 ~ 50 ℃ |
| Store the solvent | 0.25 mM aqueous solution of CuSO4 100% |
In the presence of chiral compounds with low solubility in the range of available mobile phases, it is recommended to use a bonded chiral column (solvent-resistant chiral column) and try other mobile phase conditions.
SKU

25622

Commodity Codes

90279050

Manufacturer

Daicel Corporation

Country of Origin

Japan

Chromatography HPLC or GC

Particle size (µm)

10

Internal Diameter (mm)

4.6

Length (mm)

50

Temperature range (°C)

0 ~ 50 ℃

Packing Phase

CHIRALPAK ® WH