Daicel CHIRALPAK ® AY-3R / CHIRALPAK ® AY-RH HPLC Columns
Daicel CHIRALPAK ® AY-3R / CHIRALPAK ® AY-RH HPLC Columns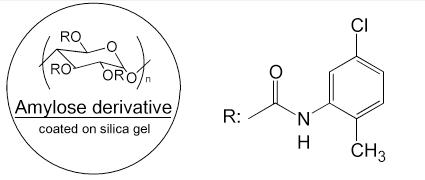 The surface of the silica gel is coated with amylose-tris(5-chloro-2-methylphenylcarbamate)
CHIRALPAK ® AY-3R / CHIRALPAK ® AY-RH is a reverse-phase coated chiral column for polysaccharide derivatives. The surface of the silica gel is coated with amylose-tris(5-chloro-2-methylphenylcarbamate). ), suitable for use in reverse phase mobile phase.
Inverted series chiral column for CHIRALPAK ® AY-3 / CHIRALPAK ® AY-H.
Suitable for the analysis of water-soluble samples, or samples with specific requirements for pH.
Suitable for LC/MS.
Provide regular analytical columns of different specifications, micro-diameter columns with an inner diameter of 2.1mm, and semi-preparative columns and preparation columns with different inner diameters. You can select the appropriate specifications according to the experimental needs.
Daicel CHIRALPAK ® AY-3R / CHIRALPAK ® AY-RH HPLC Columns
There are 38 product(s)