Atago 7301 Pocket Acidity Meter PAL-Easy ACID1 Master Kit for Citrus Fruits including Oranges and Lemons, Acid : 0.10 to 4.00% Measurement Range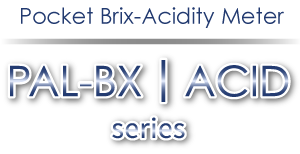 It can measure acidity of citrus fruits including oranges, mandarin oranges, and lemons. The Master Kit comes complete with a scale, 1 beaker, and 1 measuring spoon
Specifications
Model
PAL-Easy ACID1 Master Kit
Cat.No.
7301
Scale
Acid (Total Acidity to Citric Acid Conversion)
Range
Acid : 0.10 to 4.00%
10.0 to 40.0℃
Accuracy
Acid : ±0.10% (0.10 to 1.00%)
Relative precision ±10% (1.01 to 4.00%)
±1℃
Measurement Time
Approx. 3 seconds
Power Supply
2 × AAA Batteries
International Protection Class
IP65
Dimensions & Weight
55(W)×31(D)×109(H)mm, 100g
Ease of Measurement 
Acidity Meter and Brix-Acidity FAQ 
Should I choose an Acidity Meter or a Brix-Acidity Meter? 
We recommend a Brix-Acidity Meter for users who wish to measure both Brix and acid level. If Brix measurements are unnecessary, we recommend an Acidity Meter. If you are unable to find an appropriate model for the level of acid of the fruit or other sample you wish to measure, feel free to contact us. 
What is the unit display (readout) of the acid level? 
A The acid value level is expressed in g/100mL (%). 
Tell me about sample preparation procedures or any measurement tips I should be aware of? 
Sample preparation procedures and measurement tips will differ, depending on the sample. However please use the following as a reference: when measuring acid level with an ATAGO acidity Meter or Brix-Acidity Meter, it is necessary to dilute the sample. If you have any additional questions or concerns please contact us.


Function and Design 



SKU

7301

Commodity Codes

90275000

Sample

Citrus Fruits

Brix

Not Applicable

Acid

Low Acidity : 0.10 to 4.00% High Acidity : 2.50 to 8.80%

Manufacturer

Atago Co Ltd

Country of Origin

Japan