Atago 7112 Pocket Brix-Acidity Meter Asian Pear PAL-BX|ACID12 Master Kit, Brix : 0.0 to 90.0%, Acid : 0.05 to 2.00% Measurement Range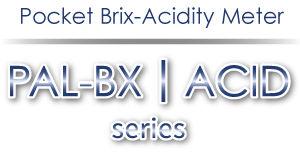 This Master Kit is specifically for measuring Asian Pear and includes everything you need for easy, precise and accurate measurements.The Master Kit comes complete with a scale, 1 beaker, and 1 measuring spoon
Specifications
Model
PAL-BX|ACID12 Master Kit
Cat.No.
7112
Range
Brix : 0.0 to 90.0%
Acid : 0.05 to 2.00%
10.0 to 40.0℃
Measurement Accuracy (nD)
Brix : 0.1%
Acid: 0.01%
0.1℃
Accuracy
Brix : ±0.2%
Asian Pears other than Kousui
Acid : ±0.05% (0.05 to 0.50%)
 Relative precision
 ±5% (0.51 to 2.00%)
Kousui
Acid : ±0.05% (0.05 to 0.48%)
±1℃
Measurement Time
Approx. 3 seconds
Power Supply
2 × AAA Batteries
International Protection Class
IP65
Dimensions & Weight
55(W)×31(D)×109(H)mm, 100g
This product is a part of the following bundle(s):

What's important is the balance of sweetness and tartness! Brix and acidity in mere one minute
Ease of Measurement 
Each unit in this series measures both Brix (sugar level) and acidity. The PAL-BX|ACID meters are uniquely designed with a specific scale best suited for the sample it is measuring. The PAL-BX|ACID meters measure the total acidity in a sample and convert it into either citric, tartaric, malic, acetic, or lactic acid concentrations, depending on the unit.
ATAGO recommends the Master Kit (includes digital scale, plastic pipettes, and plastic beakers) for precise and accurate measurements.






---

Q When should Brix-Acidity Meters be used?

A) It is ideal to use the Brix-Acidity when you want to measure both Brix and acidity. Please contact us, if your sample or fruit type is not listed.

Q What are units of measurement for acidity?

A) The units of measurement can vary depending on the country it is used. In Japan, g/100mL is a typical unit. It is typically converted to a percentage.

Q Are there any particular sample preparations or precautions?

A) Depending on your sample, preparation methods may vary. Please refer to the following. When measuring acidity with ATAGO Brix-Acidity Meters, samples need to be diluted.

---

Function and Design 




---


Measuring Tips 



Weight

100 g

SKU

7112

Commodity Codes

90275000

Sample

Asian Pear

Brix

0.0 to 90.0%

Acid

0.05 to 2.00%

Manufacturer

Atago Co Ltd

Country of Origin

Japan