Atago 2591 MASTER-OE Wine Refractometers (Automatic Temperature Compensation & Water Resistant), Oe : 0.0 to 130°
Specifications
Model
MASTER-OE
Cat.No.
2591
Scale
Oe
Brix
Measurement Range
Oe : 0.0 to 130°
Brix : 0.0 to 33.0 %
(Automatic Temperature Compensation)
Minimum Scale
Oe : 2°
Brix : 0.5 %
Measurement Accuracy
Oe : ±2°
Brix : ±0.2 %
(10 to 30 °C)
International Protection Class
IP65 (except eye piece)
Dust-tight and Protected against water jets.
Dimensions & Weight
3.2×3.4×16.8cm, 130g
Options
· SUPER EXTRACTOR : RE-29401
· 10% Sucrose (±0.03%) : RE-110010
· 20% Sucrose (±0.03%) : RE-110020
· 30% Sucrose (±0.03%) : RE-110030
· Daylight plate for small volume samplings : RE-2311-58M
* Calibration Certificate : Contact an ATAGO representative for details.
Parts
· Daylight plate : RE-2315-60M
Design Registration No.000379326-0001, 000379326-0002 (EU)
ZL 2005 3 0116403.4,5 (China), D111526 (Taiwan)
1255763, 1255764, 1255765, 1255766, 1255767 (Japan)
Patent Granted in countries around the world.



The MASTER-Series Wine Refractometers are used for measuring grape must concentrations. The operator can simply apply a drop of sample on the prism to view the measurement value through the eyepiece. 5 models are available. These models come with dual scales (one wine scale plus Brix scale). These models are equipped with the same great features as the other MASTER-α Series. Featuring functions, such as, Easy-to-Read, Easy-to-Hold, Smooth Sampling, Easy Disposal of Sample, Well-Balanced Structure, and the improvement of hygiene aspect by employing the new type of grip. These models come with Automatic Temperature Compensation function (ATC) and Water Resistant feature (IP65).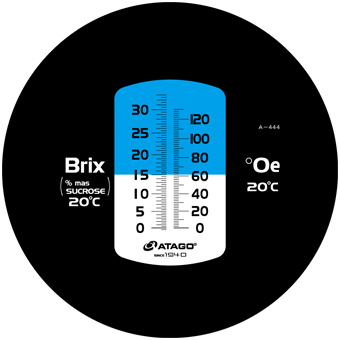 EXPLANATION OF ICONS
Icons, for functions, specifications and scales have been added to this catalog
Function

Can be connected to a recorder
Measurement at a set temperature
Can be connected to a printer
Automatic Temperature Compensation
Alarm output for high- and low-limit values
Can be connected to a circulating
RS-232C Interface
Continuous measurement
In-line measurement
High temperature samples
User scales can be inputted
External Light Interference
Specification

Scale

Calibration with water
Clinical refractometers
Calibration with exclusive standard liquid
Refractive index scale
Compact and easy to carry
Salt concentration scale
Digital display
Seawater scale
AC outlet (AC100 to 240V)
Wine scale
Battery operated
 
 
SKU

2591

Commodity Codes

90275000

Measurement Range

Brix : 0.0 to 33.0 %

Measurement Accuracy

Brix : ±0.2 %

Manufacturer

Atago Co Ltd

Country of Origin

Japan
Recommended Accessories