Precisa XM60HR Moisture Analyser Balances, Series 330 XM, Maximum Capacity 124g, Readability 0.0001g, Pan Size 100mm Dia, 30 - 230°C Temperature Range
XM60HR High Resolution Moisture Analyser with 0.0001g readability.  Weighing capacity up to 124g, the XM60HR is ideal for customers who require greater accuracy and precision with their moisture analysis.  Temperature range from 30oC to 230oC.  External calibration only.  Infrared Heating Element.  Up to 20 methods storage.  3 year warranty.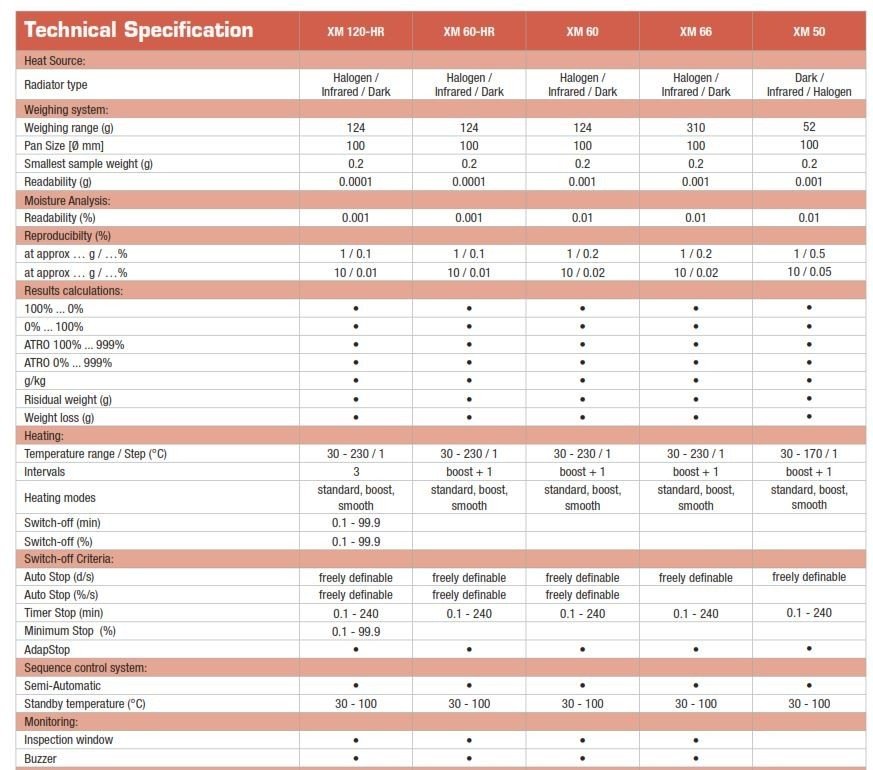 Moisture Analysers from Precisa – for efficient measurements and accurate results.
Precisa has a wide range of moisture analysers for a variety of applications.  From food, pharmaceutical, environmental or any other market where moisture content is important, a Precisa moisture analysers will have an ideal product.
From the entry level model XM50 to the top of the range EM-120HR, the Precisa family of Moisture Analysers features robust mechanics, inspiring design, compact footprint and a high level of accuracy and precision.
The XM Series features 4 different models to cover a wide range of applications.  Featuring readabilities from 1mg  (0.001g) to 0.1mg (0.0001g), temperatures up to 230 degrees Celsius and a choice of heating elements, the XM Series provides simplicity and flexibility for all the models in the range.
Featuring
Easy operation and method set-up through membrane keypad
External calibration option for engineer or qualified user to perform checks and calibration of moisture analyser.
Multiple method storage (except for XM-50) to enable storage and recall of up to 30 methods
Dust Filter Option for dusty and dirty environments to prevent ingress into the electronics and weighing cell
Range of heating elements to fulfil different method criteria
Manufacturer

Precisa Gravimetrics AG

Maximum Capacity

124g

Readability

0.0001g

Pan Size

100mm ø Dia