Precisa EM-120HR Moisture Analyser Balances, Series 365 XM, Maximum Capacity 124g, Readability 0.0001g, Pan Size 100mm Dia, 30 - 230°C Temperature Range
EM 120-HR Executive Moisture Analyser.  The EM-120HR provides 0.0001 g weight readability and 124g capacity.  Temperature range from 30oC to 230oC.  Internal calibration option included as standard.  Halogen Heating Element.  Up to 100 methods storage.  3 year warranty.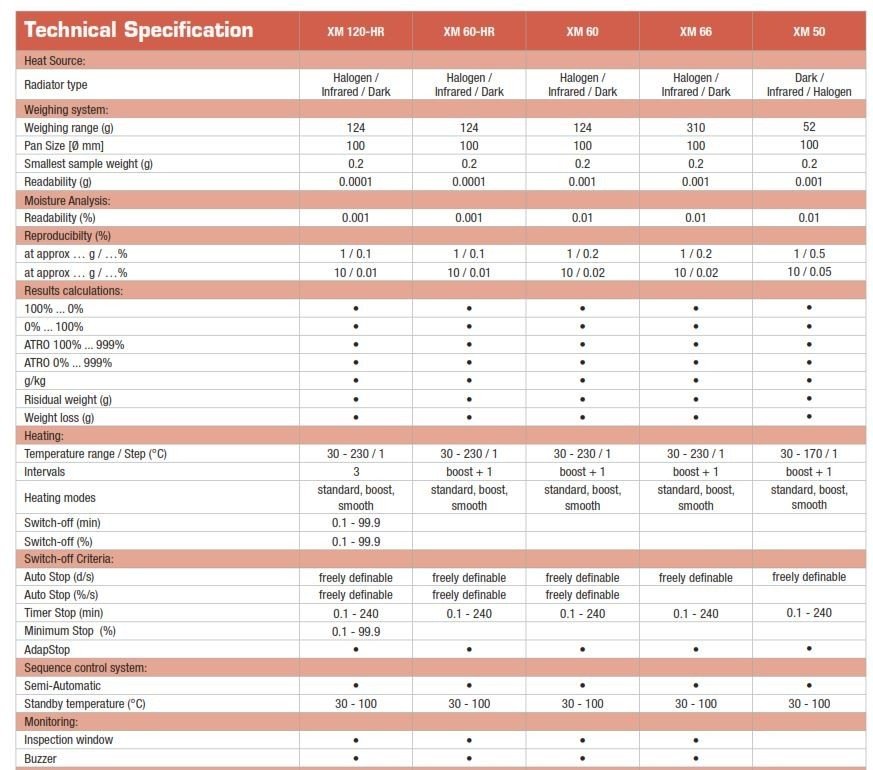 Series 365EM
The top of the range Moisture Analyser from Precisa, the EM-120HR unit features readability of 0.1mg (0.0001g) and temperatures up to 230 degrees Celsius as standard.
A compact footprint & highly informative display and data retrieval, provides ease of use and simplicity in operation for all users of this equipment.
Featuring
Large Graphical User Interface with options to change display to show method parameters, results and graphical representation of moisture loss over the run
Automatic Self Calibration System as standard
Extended method capacity with up to 100 methods able to store and recall through the intuitive menu screen
Advanced options include Wireless, Bluetooth and ethernet connectivity depending on customer requirements
Manufacturer

Precisa Gravimetrics AG

Maximum Capacity

124g

Readability

0.0001g

Pan Size

100mm ø Dia