Ohaus 80251043 CKW15L55 CKW Checkweigher Bench Scales, 15Kg Maximum Capacity, 2.0g Readability
Combining an NSF Certified and USDA Accepted food-safe design, durable stainless steel construction, and industry leading software, the OHAUS CKW series includes fully dedicated checkweighing scales built for applications requiring fast and accurate operation. Designed with the operator in mind, the OHAUS CKW scales are easy to operate, but offer full configuration to provide operation for various checkweighing procedures.
Applications
Weighing, Checkweighing
Display
Light emitting diode (LED) display, 24 segment traffic light LED bar graph
Operation
AC power (included) or rechargeable battery (accessory sold separately)
Communication
Easy access communication port including RS232 interface and external tare input (included) and RS422/485 or AC/DC relay outputs (accessories sold separately)
Construction
NEMA 4X/IP66 stainless steel indicator, 304 grade stainless steel platform with no visible threads, rounded corners, drain holes, extended skirt and open frame, IP67 stainless steel load cell, stainless steel column and wall bracket, level indicator
Design
Simple plug and play installation of accessories, 20,000d and up to 10,000e, 20 part library, 3-color 24-segment bar graph, beeper, and weight display alert checkweighing indications, NSF listed and USDA-AMS accepted, checkweighing target settings for range, variance by weight or percent, positive, negative, zero, or net checkweighing methods, statistical function
| Models | Maximum Capacity | Readability | Readability (Certified) |
| --- | --- | --- | --- |
| CKW3R55 | 6 lb (3 kg) | 0.001 lb (0.5 g) | 0.002 lb (1 g) |
| CKW6R55 | 15 lb (6 kg) | 0.002 lb (1 g) | 0.005 lb (2 g) |
| CKW15L55 | 30 lb (15 kg) | 0.005 lb (2 g) | 0.01 lb (5 g) |
| CKW30L55 | 60 lb (30 kg) | 0.01 lb (5 g) | 0.02 lb (10 g) |
The CKW features multiple checkweighing options including Positive, Negative, Zero or Net and statistical capabilities to provide accurate results for advanced checkweighing needs.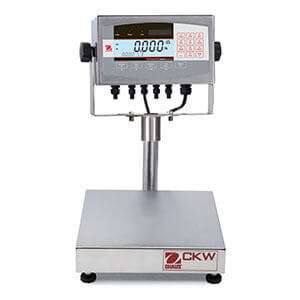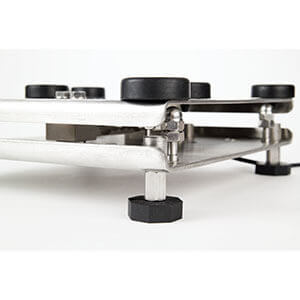 CKW is NSF Certified, USDA-AMS Accepted, and supports HACCP-certified systems, and is safe for use in food processing applications.
The base's open framework can be thoroughly cleaned to eliminate the risk of contamination caused by residue build up.