Ohaus 30208442 PA224, Pioneer® Plus Analytical Balances, Maximum Capacity 220 g, Readability 0.1 mg, Pan Size 3.54 in (90 mm) with External Calibration
The OHAUS Pioneer Series analytical and precision balances are designed for reliable routine weighing at an affordable price. Equipped to handle a variety of laboratory, industrial and education applications, the Pioneer balances are available as both external and internal calibration models. With a backlit LCD, new application modes and built-in environmental settings - these compact yet durable balances fit right in any work setting.
 Specifications
| | |
| --- | --- |
| Maximum Capacity | 220 g |
| Readability | 0.1 mg |
| Pan Size | 3.54 in (90 mm) |
| Item Number: | 30208442 |
Applications
Weighing, Parts Counting, Percent Weighing, Animal/Dynamic Weighing, Density Determination
Display
LCD with backlight
Operation
AC adapter (included)
Communication
RS232 (included)
Construction
Metal base, ABS housing, stainless steel pan, glass draftshield with sliding top door, weigh below hook, security bracket, in-use cover
Design
Stability indicator, software lockout and reset menu, menu and calibration locks, up-front level indicator, auto tare, mechanical and software overload/underload protection, multiple application modes and units, user-selectable communication and printing settings, user-selectable span calibration points, auto standby
The draftshield features removable glass panels and three sliding doors which help to avoid sample contamination. These can be easily removed for cleaning the balance.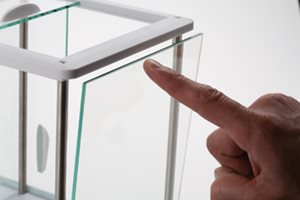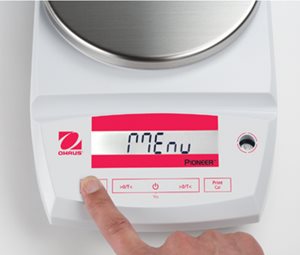 The Pioneer is equipped with a bright backlit LCD which enables clear viewing of results regardless of the lighting conditions- making it ideal for use in any work setting.
Three filter modes and adjustable zero tracking help to adjust the balance's sensitivity to environmental disturbances, vibrations and slow filling applications, ensuring the accuracy of measurements.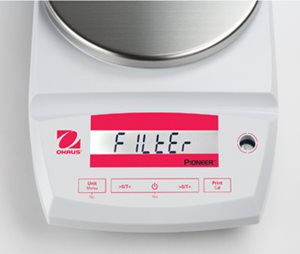 Manufacturer

Ohaus Corporation

Maximum Capacity

220g

Readability

0.1mg

Pan Size

90mm ø Dia

Calibration Type

External

Communications RS232

Yes
| | |
| --- | --- |
| Maximum Capacity | 220 g |
| Readability | 0.1 mg |
| Pan Size | 3.54 in (90 mm) |
| Internal Calibration | Not Applicable |
| Draftshield | Included |
| Auxiliary Display Model | Available as an Accessory |
| Battery Life | Not Applicable |
| Communication | RS232 (Included) |
| Dimensions (HxLxW) | 11.3 in x 12.6 in x 7.7 in (287 mm x 320 mm x 196 mm) |
| Display | 7 segment LCD with backlit |
| In-use cover | Included |
| Legal for Trade | Not Applicable |
| Minimum Weight (USP), Typical | 0.02 g |
| Pan Construction | Stainless Steel |
| Power | AC Adapter (Included) |
| Stabilization Time | 3 s |
| Tare Range | To capacity by subtraction |
| Units of Measurement | Milligram;Gram;Kilogram;Ounce;Ounce Troy;Momme;Mesghal;Hong Kong Tael;Singapore Tael;Taiwan Tael;Tical;Tola;Baht;Custom |
| Working Environment | 50°F – 104°F, 80%RH, non-condensing (10°C – 30°C, 80%RH, non-condensing) |