LEEC Fan Assisted Salt Solution Humidity Cabinets with Stainless Steel Chambers and Shelves
LEEC's Salt Solution Humidity Cabinets all have stainless steel interiors and adjustable stainless-steel shelves. All SF models have sealed chambers making them suitable for humidity's up to 98%. SF models can have an optional outer door heater to demist the inner glass door(s). CFC-free Polyurethane insulation provides very efficient thermal stability in these models with a 12mm access port is provided as standard.
Monitoring and controlling both heating and cooling functions are performed with great accuracy, achieving typical temperature stability of ±0.5°C. The microprocessor-based digital display allows the temperature performance to be easily verified and a digital over-temperature safety cut out is fitted to all models.
Salt-type SF models rely on forced evaporation from pans/trays on the chamber floor, containing known saturated salt solutions which is a simple and reliable method of humidity control. As an alternative, the chamber itself can directly hold a greater volume of the saturated salt solution if pans/trays are not desirable.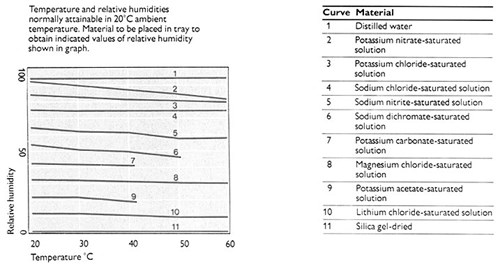 Features:
Tried and trusted technology
Available as "heat only" or "heat and cool"
Fan assisted
Simple to use
Stainless steel chambers and shelves
Digital temperature control



Technical Specifications

* Temperature down to +10°C using an optional external cooling unit
** Temperature specification at 20°C ambient

 

SFC2

SFC3

SFC2C

SFC3C

Type

Heat only

Heat only

Heat / cool

Heat / cool

Temperature Range **

Ambient +5° to +60°C*

Ambient +5° to +60°C*

+5° to +60°C

+5° to +60°C

Temperature Control

±0.2°C at 37°C

±0.2°C at 37°C

±0.2°C at 20°C

±0.2°C at 20°C

Temperature Variation

±0.5°C at 37°C

±0.5°C at 37°C

±0.5°C at 20°C

±0.5°C at 20°C

Humidity Range

0-98% using appropriate saturated salt solution

0-98% using appropriate saturated salt solution

0-98% using appropriate saturated salt solution

0-98% using appropriate saturated salt solution

External Dimensions
(H x W x D mm)

880 x 635 x 660

1550 x 635 x 660

1075 x 635 x 660

1745 x 635 x 660

Internal Dimensions
(H x W x D mm)

590 x 510x 490

1275 x 510x 490

590 x 510 x 490

1275 x 510 x 490

Chamber Capacity

150L

320L

150L

320L

Shelves Supplied

4

6

4

6

Weight

75kg

120kg

100kg

145kg

Power Rating

200 watts

250 watts

800 watts

850 watts
Weight

75000 g

SKU

SFC2

Commodity Codes

90321089

Manufacturer

LEEC Limited

Country of Origin

United Kingdom

Type

Heat only, Heat/Cool

Temperature Range

Ambient +5° to +60°C*

Humidity Range

0-98% using appropriate saturated salt solution

Internal Dimensions (H x W x D mm)

590 x 510x 490, 1275 x 510x 490

Capacity (L)

150, 320