Atago 4434 PAL-34S Digital Hand-Held "Pocket" Ethyl alcohol Refractometer, Ethyl alcohol : 0.0 to 45.0%
Specifications
Model
PAL-34S
Cat.No.
4434
Scale
Ethyl alcohol (g/100g)
Temperature
Measurement Range
Ethyl alcohol : 0.0 to 45.0%
Temperature : 10.0 to 35.0゚C
Resolution
Ethyl alcohol : 0.5%
Temperature : 0.1゚C
Measurement Accuracy
Ethyl alcohol : ±1.0%
Temperature : ±1゚C
Temperature compensation range
10 to 35゚C
(Automatic Temperature Compensation)
Ambient Temperature
10 to 35゚C
Sample Volume
0.3 mL
Measurement Time
3 seconds
Power Supply
2 x AAA Batteries
Battery Life
Approx. 11,000 times measurement
(when alkaline batteries are used)
International Protection Class
IP65 Dust-tight and Protected against water jets.
Dimensions & Weight
55(W) x 31(D) x 109(H)mm, 100g (Main Unit only)
Options
· PAL-CASE : RE-39409
· PAL Silicone Cover : RE-39413
· STRAP : RE-39410
Patent for Invention Registration No. ZL200310103015.2 (China)
Patent for Design Registration No. ZL03303431.1 (China), 089244 (Taiwan)
Patent Granted in countries around the world.







Digital Hand-held "Pocket" Refractometer PAL
Everyone is talking about the new "Pocket" as featured on recent TV programs and Magazines.
The PAL is a completely new and redesigned digital hand-held instrument that will change the traditional conceptions of refractometers. The PAL's surprisingly compact size allows you to easily carry it around and use it indoors as well as outdoors.
The size, design, function and performance will surprise you. The PAL will expand your range of measuring possibilities.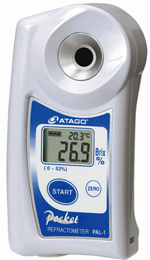 Features

2003 "Good Design Award"
2004 "Venture Technology Awards (Excellence)"
2005 "Technology for Food Industry Award"
Light & Compact, 100g.
Ergonomically designed for one-handed operation.
Sample size 2-3drops.
The speedy performance of the PAL is amazing. Simply put a drop of a sample on the prism surface and press the START key. The Brix value ( sugar content / concentration ) will be displayed in just 3 seconds.
High temperature sample can be measured.
Protection class of the PAL is IP65. You can rinse off the sample by running water on the sample stage. The design allows the user to easily wipe off the sample.
Revolutionary new feature ELI*
*External Light Interference (ELI) - Patent Pending.
The sample stage is designed to keep sample solutions from spilling out.
Calibration with water only.
The Automatic Temperature Compensation function of the PAL enables you to take measurement readings regardless of the ambient temperature.
Convenient Storage case.
EXPLANATION OF ICONS
Icons, for functions, specifications and scales have been added to this catalog
Function

Can be connected to a recorder
Measurement at a set temperature
Can be connected to a printer
Automatic Temperature Compensation
Alarm output for high- and low-limit values
Can be connected to a circulating
RS-232C Interface
Continuous measurement
In-line measurement
High temperature samples
User scales can be inputted
External Light Interference
Specification

Scale

Calibration with water
Clinical refractometers
Calibration with exclusive standard liquid
Refractive index scale
Compact and easy to carry
Salt concentration scale
Digital display
Seawater scale
AC outlet (AC100 to 240V)
Wine scale
Battery operated