Atago 4401 Digital Pocket Blood Serium Refractometer, PAL-11S PAL Series , Blood Serum Protein Scale: 0.0 to 12.0g/100mL Measurement Range

Pocket >> Palm >> Perform IoT Supported With NFC Technology
Blood Serum Protein Measurements with Only a Small Amount of Sample
The Digital Hand-held "Pocket" Blood Serum Protein Refractometer PAL-11S is simple to operate, allowing anyone to take precise and accurate blood serum protein measurements quickly and easily. It requires only a small amount of sample and measurement time is just 3 seconds. Its waterproof design allows the unit to be fully rinsed under running water, making clean-up after measurements a breeze.A small volume sample adaptor is included as a standard accessory.
Specifications
Model
PAL-11S
Cat.No.
4401
Measurement Range
Serum protein scale : 0.0~12.0g/100mL
Temperature : 10.0 to 35.0℃
Resolution
Serum protein : 0.2g/100mL 
Temperature : 0.1℃
Measurement Accuracy
Serum protein : ±0.2g/100mL
Temperature : ±1℃
Temperature compensation range
10 to 35゚C (Automatic Temperature Compensation)
Ambient Temperature
10 to 35゚C
Sample Volume
At least 3μl
Measurement Time
Approx. 3 seconds
Power Supply
2 x AAA alkaline batteries
Battery Life
Approx. 11,000 times measurement
(when alkaline batteries are used)
International Protection Class
IP65 Dust-tight and Protected against water jets.
Included Accessories
A very small amount of sample adapter standard attachment
Dimensions & Weight
55(W)×31(D)×109(H)mm, 100g (Main Unit only)
Patent for Design Registration No. ZL200310103015.2 (China)
Patent for Invention Registration No. ZL03303431.1 (China), 089244 (Taiwan)
Patent Granted in countries around the world.
PAL commitment 
A new ergonomic design for comfort and ease of use! In pursuit of an "easy to use" , "easy to operate" and ergonomic architecture of new instruments, ATAGO has achieved a "palm fitting" masterpiece as well as unit that is high in hygienic properties. By reducing the number of unnecessary assembly parts, we have reduced the risks of a germ reproductive environment. Through our efforts to produce a hygienic instrument to be used in any industry, these units are designed to be completely washable. The new PAL series has been approved by the HACCP, and are equipped with the new ELI feature, which ensures accurate measurements - even outdoors. Requests from our customers worldwide are reflected in the development of the new PAL units
ATAGO Releases NFC (Near Field Communication) Equipped Refractometers
In addition to the Bluetooth enabled refractometers, ATAGO ® released refractometers with near-field communication (NFC) technology for the ease of storing and sharing data with phones, tablets, laptops, and other NFC-equipped devices. Simply by tapping NFC-equipped devices, up to 100 measurement data with the date and time are transferred in a matter of seconds. The NFC solution is simpler and prevents typical human errors in data collection and data generation.
With ever evolving movement of profound change in how human interact with machine automation, this upgrade seizes one's time to write down measurements with a pen or paper.
How to Use NFC Feature on PAL:
Step 1) For cellphones, download NFC reader app or turn on the NFC feature. For computers, connect the NFC reader.
Step 2) Place NFC reader to the PAL device.
Step 3) Download data.
Quick and easy three steps
 Measurement Methods in 3 easy steps
| | | |
| --- | --- | --- |
| Apply 2-3 drops on the prism surface. | Press the START key. | Measurement value and prism temperature are displayed in 3 seconds! |
Features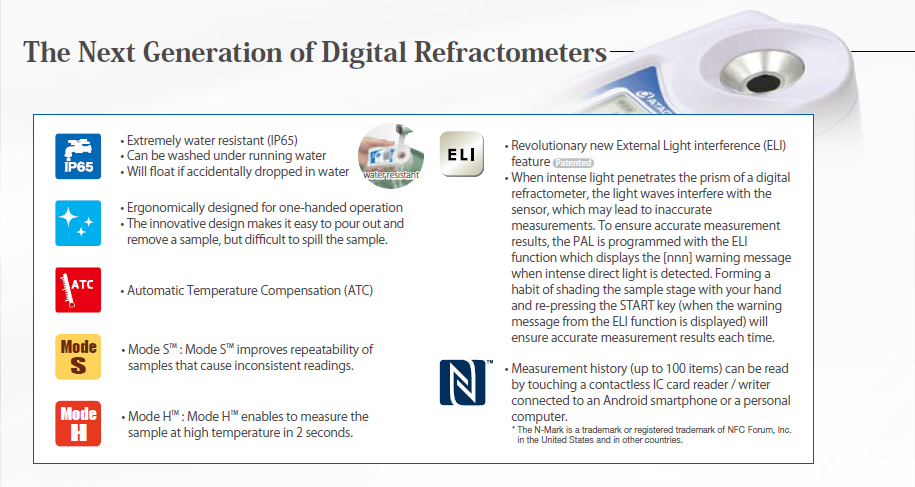 Light & Compact, 100g.
Ergonomically designed for one-handed operation.
Sample size 2-3 drops.
The speedy performance of the PAL is amazing. Simply put a drop of a sample on the prism surface and press the START key. The Brix value ( sugar content / concentration ) will be displayed in just 3 seconds.
High temperature sample can be measured.
Protection class of the PAL is IP65. You can rinse off the sample by running water on the sample stage. The design allows the user to easily wipe off the sample.
Revolutionary new feature ELI*
*External Light Interference (ELI) - Patent Pending.
The sample stage is designed to keep sample solutions from spilling out.
Calibration with water only.
The Automatic Temperature Compensation function of the PAL enables you to take measurement readings regardless of the ambient temperature.
Convenient Storage case.
New Digital Hand-Held "Pocket" Meter for PAL-Series Equipped with NFC Data Transmission Function
Data history can be accessed by bringing PAL-NFC to any Android devices or PC-linked USB NFC Reader.
*The Certification Mark is a trademark or registered trademark of NFC Forum, Inc. in the United States and in other countries.




EXPLANATION OF ICONS
Icons, for functions, specifications and scales have been added to this catalogue
Function

Can be connected to a recorder
Measurement at a set temperature
Can be connected to a printer
Automatic Temperature Compensation
Alarm output for high- and low-limit values
Can be connected to a circulating
RS-232C Interface
Continuous measurement
In-line measurement
High temperature samples
User scales can be inputted
External Light Interference
Specification

Scale

Calibration with water
Clinical refractometers
Calibration with exclusive standard liquid
Refractive index scale
Compact and easy to carry
Salt concentration scale
Digital display
Seawater scale
AC outlet (AC100 to 240V)
Wine scale
Battery operated
SKU

4401

Commodity Codes

90275000

Measurement Range

Serum protein scale: 0.0 to 12.0g/100mL

Measurement Accuracy

±0.2g/100mL

Ambient Temperature (°C)

10 to 35

Use

Blood Serum Protein

International Protection Class

IP65

Manufacturer

Atago Co Ltd

Country of Origin

Japan