Atago 4211 Digital Portable Salt Meter, ES-421 PALETTE Series, Conductivity Method, 0.00 to 10.0% Measurement Range

Timeless Quality and Performance IoT Supported With Near Field Communication Technology
The digital salt-meter, ES-421 employs a funnel-shaped sensor which measures the salt % of a sample such as the dilute solution of soy sauce, ketchup,mayonnaise, worcester sauce, squeezed juice of pickles, etc. It only needs 1.0ml of sample.
*Improved durability with titanium electrodes.
*Stage is made out of SUS316L.
*Equipped with a backlight for even brighter, easier to read display.
*Equipped with an "Offset Function."
*The NaCl solution for calibration is different from the solution used for the former ES-421(Cat.No4210).Its concentration has been changed from 2.84%→2.50%. 

Replaces Atago 4210


Specifications
Model
ES-421
Cat.No.
4211
Scale
Salt concentration (g/100g)
Temperature
Measurement Method
Conductivity method
Measurement Range
0.00 to 10.0%
Resolution
0.01% for salt concentration of 0.00 to 2.99%
0.1% for salt concentration of 3.0 to 10.0%
Measurement Accuracy
Displayed value ± 0.05% (for salt concentration of 0.00 to 0.99%)
Relative precision ± less than 5% (for salt concentration of 1.00 to 10.0%)
Ambient Temperature
10 to 40°C (Automatic Temperature Compensation)
Power Supply
006P Dry battery (9V)
Offset feature
Yes
Dimensions & Weight
17×9×4cm, 220g
(Main Unit only)
Quantity Break Pricing:
1

items

£1100.00

/ each

 

2-4

items

£945.00

/ each

save

14.09%

5-9

items

£787.50

/ each

save

28.41%

10

or more items

£735.00

/ each

save

33.18%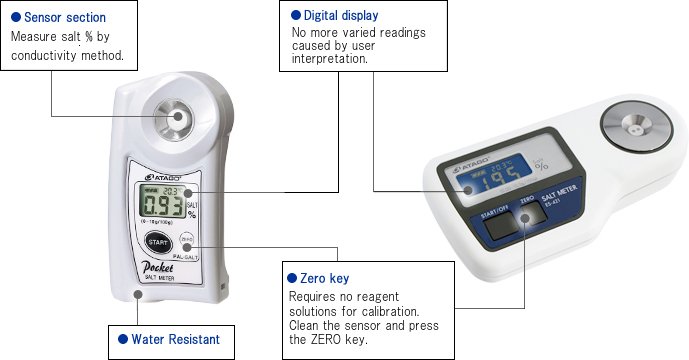 Lightweight and ergonomic design -  Stable on the table yet compact to carry
Sample stage is made of SUS316L resin which is known for its durability against corrosion. A sample can be measured while the device is in your hand or set on a desk.
Equipped with Offset Feature - Redesigned and upgraded with a convenient, brand new feature.
Newly equipped with a convenient offset feature for measurement. This feature enables the instrument to produce values which are close to those of other measurement principles,such as titration
High accuracy - Cup shaped sample stage
Only requires 0.6mL of sample. High accuracy of ±0.05% for salt concentration under 0.99%.
ES-421 3 easy steps:

| | | |
| --- | --- | --- |
| 1. Apply 2-3 drops onto the sensor section. | 2. Press the START key. | 3. Measurement value is displayed in 3 seconds. |
Why measure salt content?
Adding salt is one of the most critical processes in food manufacturing as it has a significant effect on the colour, taste, and texture of food.
ATAGO salt meters are ideal for quick and easy salinity checks on the production floor.
Recently, in addition to use in the production are, many companies are validating our salt meters as the preferred method in lab setting as well. Food scientists are choosing to limit the use of precipitation titration with harmful sliver nitrate (Mohr's method).
Because ATAGO salt meters are sage, fast, and simple.
Due to the difference in measurement principles, reading from the conductivity salt meters may not match up exactly with the reading by titration for certain samples. However, by creating a conversion table between the two testing methods, correlation between the set of results can be seen.
Unlike titration, no expensive and harmful chemical is involved in the measurement process.
ATAGO delivers the revolutionary salinity measurement solution that is both eco-friendly and cost-effective. 
SKU

4211

Commodity Codes

90275000

Measurement Range

Salt Concentration 0.00 to 10.0% (g/100g)

Resolution

0.01% for salt concentration of 0.00 to 2.99%

Measurement Accuracy

± 0.05%

Ambient Temperature (°C)

10 to 40°C

Use

Salt Concentration

International Protection Class

IP64

Manufacturer

Atago Co Ltd

Country of Origin

Japan
Recommended Accessories