Atago 3276 RX-5000i Automatic Digital Bench-Top Refractometers, Refractive index (nD) : 1.32422 to 1.58000 Measurement Range
 
The World's Highest Standard of Technology Stemming from Over Half a Century of Expertise 
Specifications
Model
RX-5000i
Cat.No.
3276
Scale
Refractive Index
Brix
Measurement Range
Refractive Index (nD) : 1.32422 to 1.58000
Brix : 0.00 to 100.00%
(5 to 75°C ATC)
Resolution
Refractive Index (nD) : 0.00001
Brix : 0.01%
Temperature: 0.01°C
Measurement Accuracy
Refractive index (nD) : ±0.00004
Brix : ±0.03%
*When measuring a standard sucrose solution of up to 50% Brix or standard refractive index solution in MODE-1 at 20°C
Repeatability
Refractive index (nD) : ±0.00002
Brix : ±0.01%
*When measuring a standard sucrose solution of up to 50% Brix or standard refractive index solution in MODE-1 at 20°C
Temperature control range
5.00 to 75.00°C
(No lower than 10°C below or higher than 55°C above the ambient temperature)
Power Supply
AC100V to 240V, 50/60Hz
Dimensions & Weight
37×26×14cm, 6.6kg
(Main Unit only)
Power consumption
90VA
Mode
MODE-1:
Displays the measurement value once the sample reaches the target temperature.

MODE-2:
Measures refractive index and temperature at fixed intervals and displays the estimated measurement value at the target temperature.

MODE-3:
The thermo-module can be turn off. Without temperature control, the measurement value is displayed in 4 seconds after the START key is pressed.

MODE-S:
Displays the measurement value once a certain level of sample stability is achieved.
Output terminals
• Printer (for ATAGO digital printers)
• Computer -USB
Warranty
2 years standard (3 years with product registration) excluding touchscreen
Options
MAGIC™ (metal) : RE-56180
MAGIC™ (resin) : RE-56185
Funnel-type Flow Cell : RE-56172
Calibration Certificate : Contact an ATAGO representative for details.
Parts
Printer paper (regular) for Thermal printer : RE-8412
Printer paper (long-term storage) for Thermal printer : RE-8414
Printer paper for Dot matrix printer : RE-89403
Ribbon cassette : RE-89402
Fan Filter Replacement : RE-58001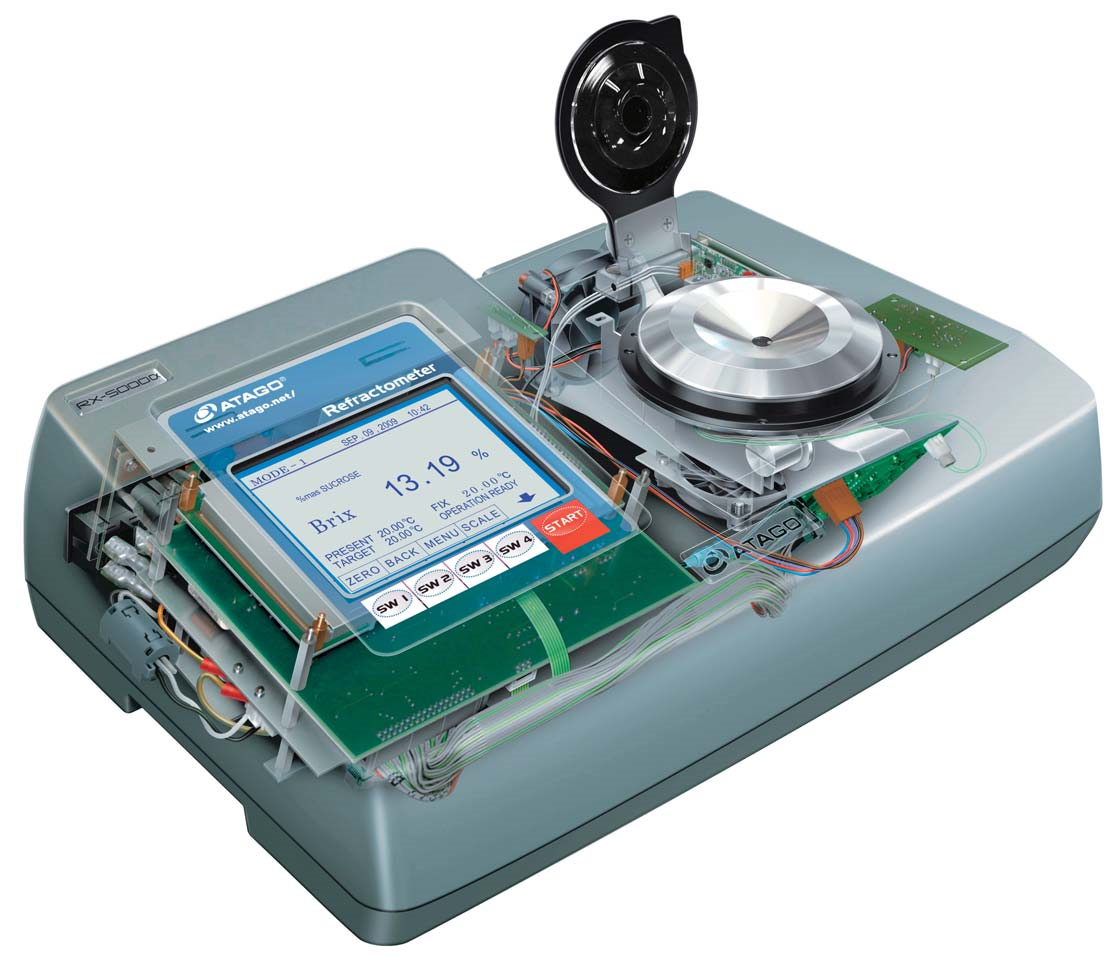 The most accurate refractometer in the world is now even more stylish, smart, and functional.

Featuring intuitive touch screen technology, the new RX-i series makes navigation and selection a breeze.

The RX-5000i measures with the same accuracy level as the RX-5000α ±0.03% Brix and ±0.00004 nD.

The RX-i series come with newly added functions, such as USB flash drive and self-diagnosis capability.

This product comes standard with a two (2) year limited warranty against manufacturer's defects from the date of the original purchase. The warranty period can be extended to three (3) years if the product is registered with ATAGO. FDA 21 CFR Part 11 Software Included in Standard Deliver




Our world-class precision instrument continues to advance.

The RX-5000α and RX-5000α-Plus are now available with touchscreen. Experience the improved functionality with intuitive touchscreen technology. FDA 21 CFR Part 11 Software Included in Standard Delivery.

5 measurement mode options

For maximum accuracy



Displays the measurement value once the sample reaches the target temperature.

For fast results



Measures refractive index and temperature at fixed intervals and displays the estimated measurement value at the target temperature.

For no temperature control



Provides an option to turn the thermo-module off. Without temperature control, the measurement value is displayed in 4 seconds after the START key is pressed.

For emulsion samples



Displays the measurement value once a certain level of sample stability is achieved.

Recommended for Measuring Low Brix Liquid Samples (such as teas)



Equipped only on the RX-5000i-Plus, MODE-T is recommended for users who place importance on obtaining highly repeatable results (Brix0.001%).



SKU

3276

Commodity Codes

90275000

Measurement Range

Refractive index (nD) : 1.32422 to 1.58000 Brix : 0.00 to 100.00%

Resolution

Refractive index (nD) : 0.00001 Brix : 0.01%

Measurement Accuracy

Refractive index (nD) : ±0.00004 Brix : ±0.03%

Manufacturer

Atago Co Ltd

Country of Origin

Japan
Recommended Accessories