Atago 3266 RX-5000a-Plus Automatic Bench-Top Digital Refractometers, Refractive index (nD) : 1.32700 to 1.58000 Brix : 0.000 to 100.000% Measurement Range
 
The NEW RX-5000α (alpha)-Plus features improved accuracy over the RX-5000α-Plus, with Brix ±0.010 and nD ±0.00002. Is has a thermo-module to control temperature, a constant temperature water bath is not necessary.It displays the top-and-bottom-limit-bar for your set control range.FDA 21 CFR Part 11 Software Included in Standard Delivery.This product comes standard with a two (2) year limited warranty against manufacturer's defects from the date of the original purchase. The warranty period can be extended to three (3) years if the product is registered with ATAGO
Specifications
Model
RX-5000α-Plus
Cat.No.
3266
Range
Refractive index (nD) : 1.32700 to 1.58000
Brix : 0.000 to 100.000%
Resolution
Refractive index (nD) : 0.00001
Brix : 0.005%
Temperature : 0.01°C
Accuracy
Refractive index (nD) : ±0.00002
Brix : ±0.010%
Temperature control range
5.00 to 60.00°C
Dimensions & Weight
37×26×14cm, 6.4kg
Output terminals
• Printer (for ATAGO digital printers)
• Computer - RS-232C
Connection to a USB port requires a USB to RS-232 adapter (optional)
Warranty
2 years standard (3 years with product registration)
Options

· 10% High Accuracy Sucrose (±0.01%) : RE-111001
· 20% High Accuracy Sucrose (±0.01%) : RE-112001
· 30% High Accuracy Sucrose (±0.01%) : RE-113001
· 40% High Accuracy Sucrose (±0.02%) : RE-114002
· 50% High Accuracy Sucrose (±0.02%) : RE-115002
* Calibration Certificate 
World's Highest Standard of Accuracy
The RX series are the most accurate of ATAGO refractometers programmed with a trusted and advanced algorithm. The epitome of which boasts the accuracy of ±0.000010 nD and ±0.005% Brix.
Ergonomically Designed Layout
The RX- a series was designed with ease of use in mind. Extensive research was performed in the design phase to ensure an ergonomic interface that made operation easy while maximizing efficiency.
4 Measurement Mode Options
For maximum accuracy

Displays the measurement value once the sample reaches the target temperature.
For no temperature control

Provides an option to turn the thermo-module off. Without temperature control, the measurement value is displayed in 4 seconds after the START key is pressed.
For fast results

Measures refractive index and temperature at fixed intervals and displays the estimated measurement value at the target temperature.
For emulsion samples

Displays the measurement value once a certain level of sample stability is achieved.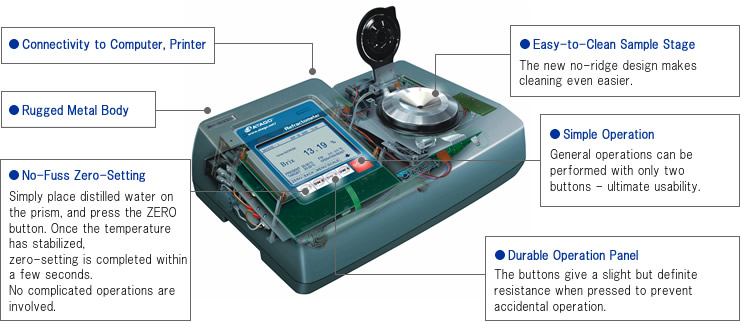 Digital Refractometers RX-α series Measurement Method
4 easy steps
Place a sample on the prism.

Press the START key to start a measurement.

Measurement value is Displayed.

Wipe off the sample to clean.
SKU

3266

Commodity Codes

90275000

Measurement Range

Refractive index (nD) : 1.32700 to 1.58000 Brix : 0.000 to 100.000%

Measurement Accuracy

Refractive index (nD) : ±0.00002 Brix : ±0.010%

Measurement Scales

Brix, Refractive Index

Manufacturer

Atago Co Ltd

Country of Origin

Japan