Atago 2612 MASTER-RI Hand-Held Refractometers MASTER series , Refractive index : 1.435 to 1.520
Specifications
| | |
| --- | --- |
| Model | MASTER-RI |
| Cat.No. | 2612 |
| Scale | Refractive index |
| Measurement Range | Refractive index : 1.435 to 1.520 |
| Minimum Scale | Refractive index : 0.001 |
| Dimensions & Weight | 3.2 x 3.4 x 16.8cm, 130g |
Options
· Standard liquid LK : RE-99010
· Daylight plate for small volume samplings : RE-2311-58M
* Calibration Certificate : Contact an ATAGO representative for details.
Parts
· Daylight plate : RE-2315-60M
Design Registration No.000379326-0001, 000379326-0002 (EU)
ZL 2005 3 0116403.4,5 (China), D111526 (Taiwan), D555, 549 (U.S.A.),
1255763, 1255764, 1255765, 1255766, 1255767 (Japan)
Patent Granted in countries around the world.


MASTER-RI is refractive-index model (measurement range : RI 1.435 to 1.520) of the MASTER-Series.
MASTER-RI can be used for measuring the refractive index of vegetable oil, petroleum, oil slicks, etc.
*Calibration with the Standard liquid LK (RE-99010)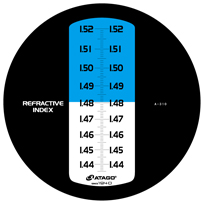 Hand-Held Refractometers MASTER series
This new type of Hand-held Refractometer MASTER functions such as Easy-to-Read, Easy-to-Hold, Smooth sampling, Easy disposal of sample from the edge, the improvement of hygiene aspect by employing the new type of grip, and well balanced structure, emphasis is also placed on its design, well exemplified by the streamlined body and the strong grip with rich texture.
Features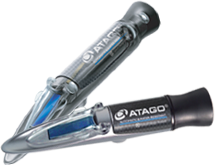 2006 " Good Design Award "
2007 " The Invention Prize "
2007 " Japan Patent Office Commissioner Encouragement Prize "
2009 " Minister of Education Award "
Protection class of the MASTER-α, H series are IP65. You can rinse off the sample by running water on the prism. The design allows the user to easily wipe off the sample.
Sample size 2-3drops.
The Automatic Temperature Compensation function of the MASTER-α, T, H series enables you to take measurement readings regardless of the ambient temperature.
Automatic Sample Distribution (ASD)
New prism housing design allows for sample to cover the prism without having to lift the day-light plate! This design will allow forfast & easy measurements.
Convenient Storage case.
 
 
The MASTER series has been improved with a clearer, brighter field of view and made even easier to carry.
Compact Redesign of the MASTER Series (from October 2014)
The MASTER series has been improved with a clearer, brighter field of view and made even easier to carry.
These improvements in our newly compact redesigned models are especially clear when taking measurements in dim lighting, or measuring darkly-colored samples. Even when measuring milky-colored, opaque, or oily samples, the boundary line remains crisp and clear.
Note: The size of the scale has changed. It may take some time to re-adjust to the new field of view when reading measurements.
EXPLANATION OF ICONS
Icons, for functions, specifications and scales have been added to this catalog
Function

Can be connected to a recorder
Measurement at a set temperature
Can be connected to a printer
Automatic Temperature Compensation
Alarm output for high- and low-limit values
Can be connected to a circulating
RS-232C Interface
Continuous measurement
In-line measurement
High temperature samples
User scales can be inputted
External Light Interference
Specification

Scale

Calibration with water
Clinical refractometers
Calibration with exclusive standard liquid
Refractive index scale
Compact and easy to carry
Salt concentration scale
Digital display
Seawater scale
AC outlet (AC100 to 240V)
Wine scale
Battery operated
 
 
SKU

2612

Commodity Codes

90275000

Measurement Range

Refractive index : 1.435 to 1.520

Manufacturer

Atago Co Ltd

Country of Origin

Japan
Recommended Accessories